Tea Tree Essential Oil is a plant extract that has been researched extensively over recent years, as it has many health advantages that can treat multiple skin conditions. Melaleuca alternifolia, a shrub-like plant with multiple antiseptic and antimicrobial properties, is the source of this essential oil. Since Tea Tree Oil is the softer natural alternative to drugs and harsh chemicals in cosmetics, many people prefer to use tea-tree oil products for solving their skin problems.
Benefits of Tea Tree Essential oil for human skin
Tea Tree Essential Oil has an unlimited range of benefits for skin. So many skin creams, nail products, massage oils, facial cleaning and even hair products containing Tea Tree Oil have become increasingly popular. There is a strong antiseptic ability in Tea Tree Oil, which makes it an alternative to conventional medications and skin products. This extract, based on plants, is just as effective and does not have harsh negative side effects. The result is a strong antibiotic ability.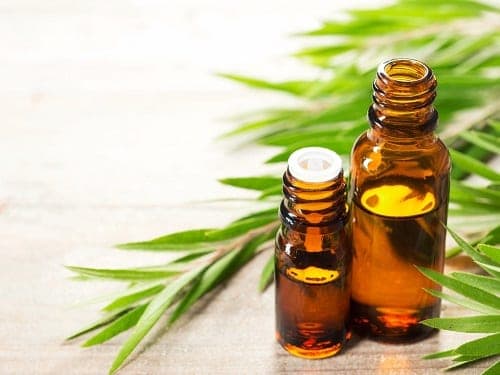 Tea Tree Essential Oil skin care products are often available in every household, especially in families with children, the elderly or people who suffer from sensitive skin. Common skincare products, available in pharmacies and cosmetics, often contain chemicals that can make the skin unpleasant and involves side effects such as acne, dryness, or inflammation. Tea Tree Oil offers reliable skin care and protection to counteract and treat these conditions.
Tea Tree Essential Oil can be brought from the pharmaceutical companies for home skin treatment. You can make your own dilution in an olive oil carrier, or you can trust the experts and purchase a Tea Tree Oil skincare solution tested for safety. Some specific skin related benefits of Tea Tree Oil are discussed below.
Treatment of skin susceptible to acne
Tea Tree Oil's strong antibacterial characteristics can help lessen the causes of skin swelling and irritation. Various scientific studies have shown that Tea Tree Oil can treat mild to modest acne effectively.
Psoriasis is characterized by red, scaly and hot dry skin areas. This particular skin condition can cause itching, pain and irritation, but no known cure for the condition is currently available. Through its anti-bacterial properties, Tea Tree Oil can help relieve the discomfort caused by psoriasis.
Skin tags are small and coloured growths in the skin, but are difficult to remove without harm. However, because of its combination of antiseptic, antibacterial and antiviral features, Tea Tree Oil is found to be an effective treatment for skin tags. You can apply Tea Tree Oil to a skin mark using a cotton pad and leave it to dry using a correct dilution of Tea Tree Oil. The skin tag will disappear slowly, by this treatment.
The disease has not yet been completely eradicated, though vaccinations against chickenpox are available. Chicken Pox, in particular in young children, can be extremely frustrating because of serious itchy effects, leading to skin marks, which is why it is advised by experts to avoid scratching. You can take a bath with a few drops of Tea Tree Oil diluted with some carrier oils, and soak for half an hour in order to relieve your skin from itching caused by chickenpox.
Tea Tree Essential Oil is one of the safer natural essential oils to be used. You can also try this product and feel the difference.